The following story is my journey with our son's fibrolamellar…a journey that did not end well as he passed away in 2010. I hope your journeys do not end the same way. I have written this to tell you how I got through Tucker's illness, and then afterwards…perhaps this is a good time for you to read this, perhaps not. If it is, I hope it helps.
Tucker was diagnosed in August 2008. He succumbed to fibrolamellar in February 2010. He was 28 years old.
For sure, a tough journey…but in many ways a remarkable one. In looking back, Tucker's Dad, Chuck, and I believe these 18 months of Tucker's life were his "finest hour". We learned more about our beautiful boy than we ever had. We were privileged to spend more time with him than we would have had he not been sick. He gave us strength. He carried us along with his hope. He found peace, and calm and eventually acceptance. He did not speak to us of death, he did this with his friends. At various times, some of us would break down, but then there was always another of our team ("Team Davis" we called ourselves) who would pick us back up. Someone once said to me that it is a privilege to be with a person on this passage at the end of life, and I was privileged to be with Tucker.
Hope, Humor, Celebration, Help
The Journey Begins…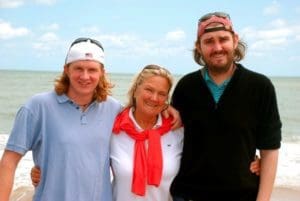 The first day Tucker was in the hospital with a horrendous blood clot in his leg and the new diagnosis of liver cancer was surreal. We of course then thought we would hear that there was a remedy for this, but we did not. They were not even sure what kind of liver cancer Tucker had. The world was moving very fast for us at this point. We had houseguests coming; Tucker's brother, Tyler, was driving cross country to get back to college; we were in shock. Tucker was admitted into our local hospital and was staying the night, at least. We went home to get some things and Tucker's girlfriend, Alisha, said she was spending the night with him. I hadn't even figured that far but responded that I would too. My husband, Chuck, wondered if he should stay home to deal with all that was going on there, but then realized he couldn't be there by himself …. We all had to be with Tucker — and that is what we did…We all slept on chairs and couches in Tucker's room. Someone asked Tucker later how he got through those first few days and he said he woke up in the local hospital that first night, saw the three of us sleeping there, and knew things were all right. From that first night forward, Tucker was never alone.
We didn't tell Tyler about this until his road trip back to school in Colorado had ended. We didn't want him to be driving and worrying. As soon as he arrived at school, we told him to get on the next plane back home to Connecticut. We told him what was going on. Then he too joined us in the hospital room every night… five strong in one room!
So our "team" was together…Chuck, me, Alisha, Tyler and Tucker.
After a couple of days in our local hospital, with excellent care, they diagnosed Tucker with fibrolamellar, something they had heard about but never seen. They agreed with us that heading to a major cancer center was the way to go. At this point, we were all madly trying to learn as much about fibrolamellar as possible. This was tough research. We didn't always like what we read and we could read in the eyes of some of the doctors and nurses that what Tucker had was not good… but we were still trying to grasp the situation. Then we got some good news. A top liver surgeon at Memorial Sloan Kettering Cancer Center, (MSKCC) in New York City had read Tucker's scans and thought that perhaps this tumor was resectable. Yes!! It was the first time since the diagnosis of cancer that my husband and I cried together. Hope. Maybe there was hope.
This was the time when the "team" started to divide and conquer. Chuck was endlessly on the phones talking with doctors and talking with people who could help us at MSKCC and elsewhere. Alisha was the internet research whiz. I was taking care of the details of the move to MSKCC and what we had to do, the paperwork, etc. Tyler was keeping Tucker entertained.
Word was getting out to our friends and family. Tucker Davis had cancer. We stopped answering our phones and emails. We just couldn't keep explaining this story to everyone who heard. A very good friend suggested we register on CarePages.com to communicate with everyone. What a help. CarePages has since become a very good record of Tucker's journey.
Treatment at Memorial Sloan Kettering Cancer Center
We moved into MSKCC. Friends who knew friends etc. helped us out here. We started our long journey into the fibrolamellar treatment realm. We stayed with Tucker a total of 24 nights, all of us.
We started what would become 18 months of trying to make important decisions on Tucker's treatment. Opinions varied. All made a lot of sense. The first couple of days of this journey, it was debated whether Tucker should have a filter placed in his vein below his kidney to be sure the clot did not grow into that. Differing opinions; all had good arguments. We went with the filter. Our next big decision, whether to do a needle biopsy or a surgical biopsy. As we had hope, we asked for a surgical biopsy so we would have tissue to send to various labs for testing. It was determined that Tucker's cancer had spread to his lymph nodes. The prevailing science was therefore to start him on chemo first, to shrink the tumor and then operate. Tucker's oncologist was introduced to us to talk about chemo…he said Tucker would be on chemo for the rest of his life. Whew! (When the oncologist left, Tucker and I both cried. Alisha bolstered us up and was the strong one that time. We all took turns at being the strong one. It helped.) Second opinions however suggested that perhaps surgery first was best. Get out as much of the cancer as can be seen and "reset the clock". That made sense. How do WE decide?
Chuck pursued answers to many of our questions. He was not afraid to ask tough questions of the doctors. He pushed and pushed. Tucker's internist was of such great help to us in trying to make these HUGE decisions. Eventually, the surgeon at MSKCC agreed to operate, even against the opinions of the incredibly talented doctors at his hospital. That was a night to celebrate for us. (We took any opportunity to celebrate with Tucker…every little thing that was good was worth celebrating.) His surgeon was very careful to tell us he knew he could not get everything but would get as much as he could see and give us more time to find a remedy.
All this time, Tucker was still suffering from the pain of the blood clot. This clot had to go away by itself but it was tough to see him suffer. Through it all his attitude was great.
Chuck was making all the right calls. Alisha was researching. I was taking notes…many notes, of everything that was happening to Tucker and everything the doctors said. They are in my messy handwriting but are very good information. When you are hearing important stuff with such incredible emotion overwhelming you, take notes. It steadies the soul and you then have something to go back to. I have notebooks organized by topic, by contact information etc…all in my messy handwriting…but it is good stuff. If you cannot take the notes, have a friend or family member do it. It is invaluable. We were very busy.
Surgery was scheduled. Family and friends started arriving. Our wonderful friends were sending us meals, even in the hospital. There was not enough room on the walls for all the cards. Each one made Tucker feel special. The flowers were amazing. Tucker made such friends with the nurses and staff on the floor. When I sensed Tucker's mood sinking, I would put out the call on CarePages for more cards, DVDs, etc. These always gave him a boost.
The surgery took four or five hours. We had family there to wait with us. In fact, Tucker said with both surgeries, seeing his Uncle Jeff in the recovery room made him feel safe and secure. Tucker's surgeon reported that he had gotten everything he could see…something worth celebrating.
We were again hopeful. Tucker joked that "chicks dig scars". We posted the photo of Tucker's scar on CarePages. He was in good humor.
Then we were hit between the eyes again.
What do you do as a parent when you are told your child has eight to twelve months to live? Tucker's Dad and I were told this by his wonderful surgeon and the two of us were just stunned. How do I go back into that room where he is recovering from a huge surgery and look him in the eye with hope on my face. I asked the doctors that and they assured me that there were people in the hospital that dealt with that sort of thing…but our experience was otherwise. How can anyone? We of course did go back into that hospital room. We carefully chatted with Tucker and Alisha. We did not share this information specifically with Tucker. I think he had already gleaned this from his and Alisha's internet research. That being said, we still carried hope that there was a cure. We got this message from our family doctor, from researchers, from many people we respected. This hope sustained us. We knew we were dealing in a "cutting edge" world, but we were ready. There is always hope.
I dealt with my worry and sadness by continuing to run every day. Tucker and I had started a jogging program a few months earlier. He was training for a corporate challenge. One morning in the hospital, we had our daily awakening by the surgeon's "fellow" at 6:00 am. Afterwards, Tucker had fallen back to sleep and I looked at our beautiful boy, asleep, so sick, unable to get out of bed and walk. I quietly arose and I started what would be my daily jog along the East River…and I remember so well, at the end of that first day's jog, my head felt clearer. I would get through this somehow. I just would.
We always joke in our family about "baby steps"… one step at a time. While in the hospital, we had some major hurdles to get over. The blood clot had to subside, Tucker had to eat, Tucker had to walk, and we concentrated on these…not on the eventual outcome we had been told was the likely course. Walking, eating, etc., were all celebrated. And then there was the humor…yes, there was humor.
After Tucker's second surgery, Tucker was in the Recovery Room next to a Russian fellow who didn't speak much English. There were two ladies also recovering from surgery across the way. They all had the self-administering pain medication button. The Russian didn't know how it worked, maybe the ladies didn't either. Tucker said he knew you could only press the button every so many minutes and he figured out when that would be. All night then, when Tucker would "Click-Click", then the Russian would "Click-Click", then the ladies….A lot of clicking…all night long. They all waited for him to start the process!
Tucker said if he ever were to write a book about his experience, he would call it "The Book of Poo". For anyone who has ever had surgery, you understand. You can't go home until you poo. Well, it took forever…and when it finally happened (Poor Nurse Cecily was on duty that night), what did we all do? We celebrated. Tucker was on his way home.
We accepted help from many friends and family. Some friends in Greenwich reordered the bedrooms in our home so Tucker did not have to walk so far. Other friends set up a hospital bed in our first floor den and furnished it with lots of Tucker's things. But at 6'4", Tucker was adamant about getting into his own bed at home, and not another hospital bed. Once home, he didn't actually "bound" up those stairs, but he did get up there…to his cozy room with his big TV and fireplace and BIG bed. A happy boy.
That was the first month.
Recovery and Treatment at Home
Once home, we got into a good routine. Our families made sure there were always lots relatives visiting. Our friends brought meals every night. Some of our neighbors got to know Tucker for the first time. It was a beautiful thing to watch. Tucker just oozed that charm of his. We found a wonderful gal who taught us how to cook for health…and for awhile, we all felt really good about eating healthier. Eventually, however, those Spaghetti Os came in very handy when they were the only thing Tucker wanted to eat.
We had lots of research going on which gave us more hope. Tucker's cancer cells were growing in mice. We were having studies done on Tucker's tissue from surgery in various labs around the country. Researchers gave us some hope. HOPE – my what a savior that is!
Chuck and I tried very hard to make this time for Tucker as special as possible. We had TV shows we all watched together. Thank goodness Tucker loved following his sports as there is ALWAYS lots of that going on. Tucker worked out as best he could, every day. When he took his walk down the block to the water, we all celebrated, and laughed that no one would complain with Tucker walking the neighborhood in his PJ's…he could "play his cancer card"!
If Tucker only had a short time left, we wanted to make it as full of life as possible.
I think of him going off to one of his first combination chemo sessions…the day after Thanksgiving in 2009. He went with Alisha and his cousins and their husbands. A big van came to get them and they snuck a cooler of beer in the back! They were a riot…ROAD TRIP!
Chemo sessions – we came with Scrabble, food, iPods, etc. Sometimes these sessions were with cousins, sometimes with friends, usually with Alisha and me. They were comfortable. Tucker always had a joke for his phlebotomist. He was very comfortable with everyone…
Of course this time at home, and later in and out of the hospital, was not a joy ride. I do not mean to suggest that at all. But we did our best not to be morose. We lived. We tried the best we could to handle the task at hand. We jumped through hoops to make sure Tucker had the best days he could possibly have. Even those difficult times in the hospital, later on in his illness, we were all together.
Initially, Tucker's chemos were in NYC and we saw those doctors. However, we eventually moved his treatments to our local hospital so any side effects of drugs were easier to treat by our family doctor.
Another thing, Tucker trusted his doctors implicitly, especially our family doctor, Ron. Ron made Tucker feel special. Ron was the translator of all the medicalese that was coming our way. Ron would come in the middle of the night if need be. Ron was hugely instrumental in helping us make our decisions. Ron contacted doctors and researchers on our behalf. Whew! I could go on and on here…the point being we did have someone in our corner who knew a whole lot more than we did about what was going on. When all is said and done here, we do feel we did the very best we could for Tucker, and Ron helped get us to that point.
Advocacy – we have always heard that every one in the hospital needs an advocate. And Tucker had them, particularly in Alisha. She had charts all over the walls tracking meds, tracking blood work, tracking food intake, tracking everything. All the nurses and doctors we encountered were amazing and smart and capable. But there were times when there was some miscommunication…and one of us, often Alisha, would step in to "clear things up."
The End of Our Journey…
In January of 2010, Tucker got some bad scans. He was in the hospital. We were told his scans didn't look good. Again, we could see the news on the faces of the hospital staff. We were scared. There was one nurse in our local hospital who had become a good friend of Tucker's (they were the same age). I asked to speak with her privately. When we got into the room to speak, we both broke down in tears and hugged each other. And then I asked her what I could expect. How would he die? She was so good to talk to. Through her tears, she told me that people with cancer often do not die in pain. They often don't die from the cancer but from an infection, or pneumonia, or something like that. That was a huge relief for me. Then she added that if he ever was in pain, that would be handled too.
I have come to realize that nurses in oncology are very special people. This is a tough job. One has to have a huge heart to do this job. I always wonder about doctors in this field too. How can they do this with so much death and sadness. They are angels.
Tucker did not die in pain.
In fact, Tucker's last day was filled with love. Tucker was communicating a bit. He seemed comfortable. He was requesting music, which his friends were downloading and playing. We think he requested a beer…so we all had one with him. We all had our private time with him. Surreal. Dr. Levine had come to see Tucker that morning. Afterwards, he called a family meeting and told us that Tucker could not come back from where he was. He had so much compassion. A lot of family was with us at that point to bolster us up. We started calling more family and friends. People came in from all over.
I have been told that often those who are dying hold on until special people in their lives have come to say goodbye, or until everyone is asleep and they can quietly "leave." Well Tucker passed away at 1:00 in the morning. We were all heading to bed…blow up beds everywhere. Tucker's two aunts sat by his side for a bit…and then came to wake me up…he was going…peacefully, quietly, gently…as was Tucker's way.
How do I deal? How did I deal? I dug deep. But there are things I truly believe and things that happened which corroborated these beliefs.
I felt Tucker no longer had to wrestle with this disease. He was at peace. I have heard it called a "merciful release," and it was.
I know that energy cannot be created or destroyed, so Tucker's energy is somewhere. Many of those who loved him often see him in a sunrise, in a sunset, on a mountain top. The weekend he died, a friend was in Ireland (mind you this was February 28) and she said there was the MOST beautiful sunny day…so unusual for that time of year…everyone remarked about it…people were going to the beach. It was truly glorious. Tucker.
There is a precious cardinal that has appeared in our yard in Connecticut and in Florida. How about that? Where did this little bird come from
Something very strange happened those last few weeks with Tucker. A similar thing happened with Tucker's grandfather. Aunt Karen was sitting with Tucker one day, on the bed next to his and Tucker asked who that was behind her. She looked and said no one…maybe he was seeing the big pillow. He said, no, there were people behind her. And then, sometimes he would OOOO and Ahhhhh, like he was communicating with someone. Now I am a very down-to-earth person, but with two people we loved, this happened. Someone explained this to me as "crossing over." Chuck and Ron call it the 4th dimension. It makes me wonder.
Our children are gifts to us. We never know how long we will have them for…we just need to appreciate each day we DO have them.
We had decided that we would have a memorial service for Tucker after awhile. Waiting was a good thing for our family.
A few days after Tucker died, Chuck and Tyler and I headed down to Florida. Just to be the three of us. It was just what we needed. To be together. To see Tucker in the amazing sunrises. To feel his wind on our faces. To be in one of Tucker's favorite places in the world. We found peace.
A month later, we had Tucker's memorial service. It was such an important event for me. It needed to be so beautiful, for me…and for everyone. Again, I accepted the help of friends and family: for the flowers, for the music, for the reception afterwards. A friend helped us pick the music and played at the church… so special. In fact, people in the congregation said the prelude music was amazing…beautiful classical pieces and all of a sudden…the Beatles. The pianist, Randi, says he saw all the young people there and was simply moved to play their music…and some who know Randi well say his music was inspired that day…truly amazing. Chuck and I wrote Tucker's eulogy…it was beautiful. Tucker's brother, Tyler, spoke as well – and many got to know Tyler so much better through his beautiful words. So many people came. That made me so very happy. I needed this to be special, and it was.
I am doing okay now. It has been quite a while and I still wake up most every morning thinking of Tucker, and usually they are beautiful thoughts, not dreadful ones. I cannot look at the video of Tucker yet. I will. I see his pictures around our house and I touch his face…that can get me close to tears but I think they are important tears. But I am living my life…I am enjoying things and laughing. My perspective on things has changed a bit. I like the way I am living my life now…it is different somehow, but good. My friends do a great job of looking out for me as Chuck's friends do for Chuck and Tyler's (and Tucker's) friends do for Tyler. They really circle us with love and are our safety net if we fall. I wonder sometimes if I am still in shock and that my big fall will come. But I think not. We had Tucker for 18 months, knowing that we might very likely lose him. They were a rich 18 months.
Whether it be kissing a bruised knee, driving to all those hockey games, making a favorite meal on their birthday, buttoning on the boutinere for their prom, helping them through a very tough sickness, or helping them deal with impending death, we never know when we will be needed, but we must be there for them. We are their moms.